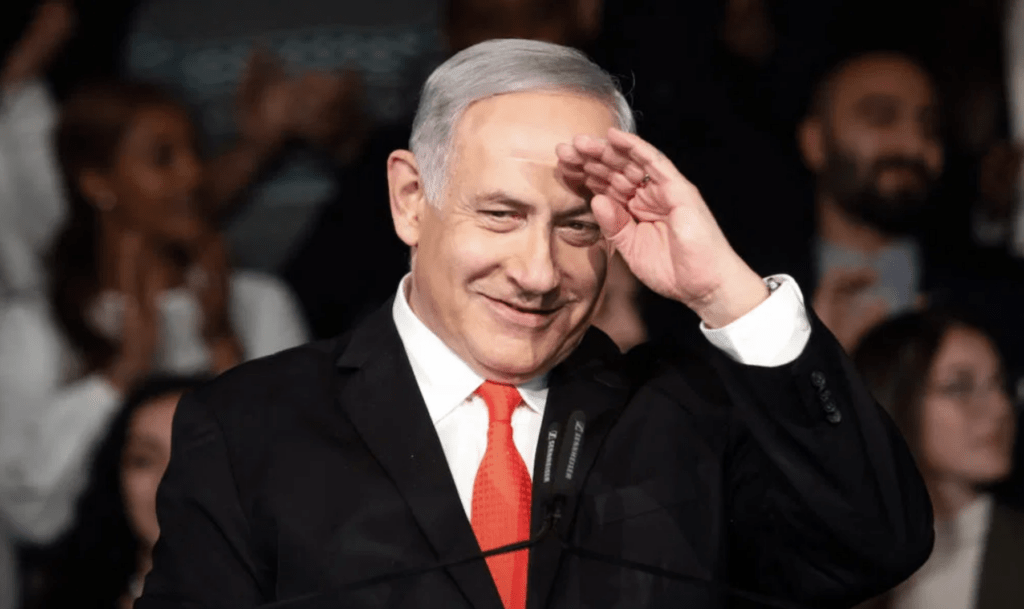 On the way to legalization in Israel: After a round of discussions with the leaders of the struggle, the PM agreed on a full pardon for cannabis consumers (deletion of criminal cases).
After a round of discussions during which meetings were held between Prime Minister Benjamin Netanyahu and Chairman of the Green Leaf Movement and editor of Cannabis Oren Leibowitz magazine and between Justice Minister Amir Ohana and Attorney Hatz-David Ozer, the PM decided to adopt the main elements of the "Leaf Plan" green.
The plan includes retroactive amnesty and deletion of criminal records of self-use of cannabis for some 40,000 Israelis, and the establishment of a committee to promote the legalization of a legal cannabis market in Israel (legalization), including opening legal stores and permitting domestic growth.
During the meetings, leaders of the legalization movement in Israel presented Leibowitz and helped Netanyahu and her data on the current harms of the anti-cannabis consumer policy and details on Canada's successful legalization model.
The petition details presented by the two on behalf of thousands of supporters (the High Court of Cannabis), including a demand for a complete abolition of the market and regulate the market in a controlled manner (legalization). The first hearing in the future will take place in the High Court in two months (22.4).
Apart from eliminating criminal cases in the context of mass pardon and the establishment of the first legalization committee in Israel, the parties intend to promote immediate solutions to reduce medical cannabis prices in pharmacies - these have jumped to an all-time high as a result of industry reform.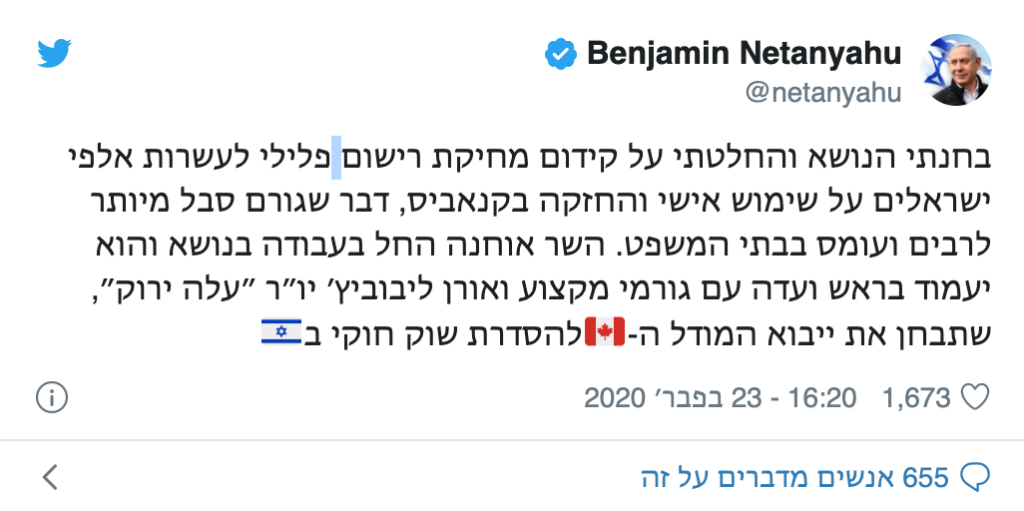 Benjamin Netanyahu
@netanyahu
I examined the issue and decided to promote the deletion of criminal record for tens of thousands of Israelis for personal use and possession of cannabis, causing unnecessary suffering to many and burdens in the courts. Minister Ohana began work on the issue and he will chair a committee with professionals and Oren Leibowitz, chairman of Green Leaf, who will examine the import of the model in Canada to regulate a legal market in Israel
A first announcement of the program was posted on Twitter on Twitter and Facebook symbolically at exactly 4:20 this afternoon. More updates are expected later this week. The legalization committee will be formed soon and will be chaired by Minister Ohana Belibowitz.
This decision is a continuation of what Netanyahu said in the April 2019 elections, when he stated that he intended to abolish the inclusion of cannabis consumers. Ahead of the second round of elections in September 2019, Netanyahu has already announced steps to legalize. In the meantime, he said he would support a bill that would allow cannabis plant growth in the home.
Justice Minister Ohana also commented on the issue when he expressed support for full legalization several times. The current decision is another step forward, this time more practical, to the realization of the fight for legalization, should the right bloc reach 61 seats.
Source: Israel Cannabis Magazine