CDD Vape Pen - CBD/THC Pre-Filled Disposable Tank

CDD Medical - Cannabis Delivery Devices

PATENT PENDING

CDD Medical has established a best-in-class Cannabis Delivery Device by way of a personal oil vaporized inhaler product line (aka Medical Grade Vape Pen), emerging as a recognized name brand in the medically controlled, active ingredients delivery devices.

CDD Medical devices are designed with medical grade products and guarantee very high accuracy in oil combustion, as cannabis flower cultivation for all our oil concentration filled cartridges, are laboratory tested and produced from our exclusive growers to guarantee medicinal benefits, concentration continuity and quality consistency. Clinical Proven Oil Formulas.

Our leadership team has strong proven Bio Pharma experience, industry related patent holding team member using cutting edge technology, placing us as leaders in this growing industry.

CDD Medical is positioned to take a portion of the Vape Pen medical delivery devices market. CDD Medical will utilize its biotech collaboration in order to offer product, services, and technologies. PO's and relationships with doctors, Plant - Distributor (B2B Wholesale), Plant - Patient (B2C Retail), Software (Operations & Patient) Data Tracking, State of the art Lab Testing (GMP), and THC/CBD related technology devices.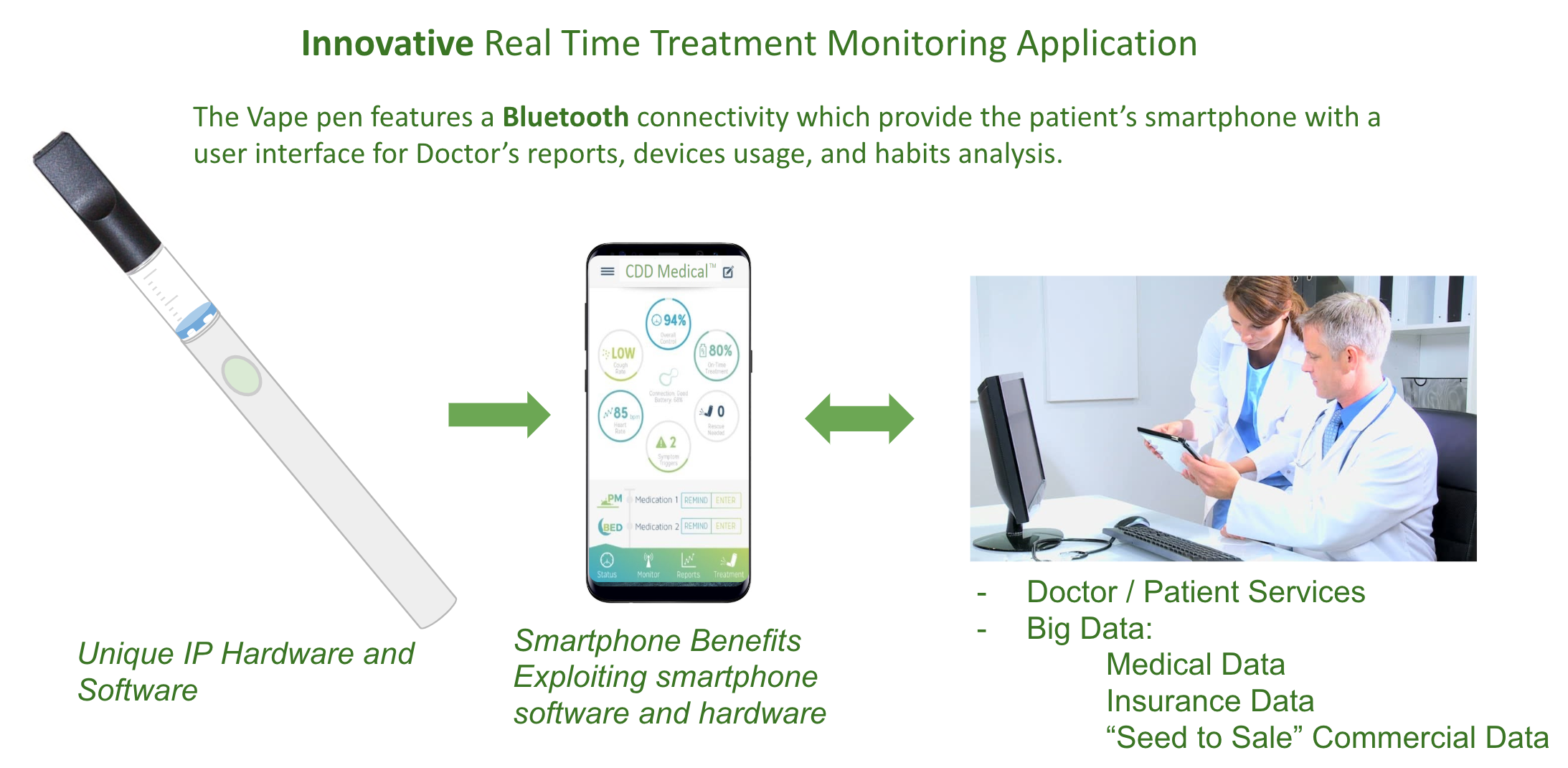 Vape Pen: 3rd Generation 'Tank' or 'Capsule' (1st generation 'eCig, cig-a-likes', 2nd generation 'Ego')



Advantages of the Battery Assembly:

Contamination proof with no direct contact between the liquid and the heating element.
Long life span of heating element as there is no contact with the liquid.
The top polished surface is easy to clean and allows for the changing of different types of liquids without leaving residue from the previous liquid.
USB-C Rechargeable port

Advantages of the Capsule:

Minimal amount of parts, and ease of automation.
No internal capsule heating element.
All structural parts made from polymers and not metals.
Cost effective.
Environmentally friendly.
Patent Pending